MOREHEAD CITY — Carteret County Health Department Director Stephanie Cannon expressed her concern Monday about the increase in COVID-19 cases in the county recently.
"Over the past two weeks, we have seen an increase in the percent positive rate," Ms. Cannon said during the Consolidated Human Services Board meeting, held via Zoom.
Ms. Cannon said in early to mid-September, the percent positive rate went as low as 3.2%. However, "Since the week ending Sept. 26, we have hovered around 7%. This is not the trend we want to see."
She added that the goal is to keep the percent positive rate at 5% or lower.
"Our community can slow the spread of this virus by wearing a mask, social distancing and washing our hands frequently," she said. "The power to slow this virus is literally in our community's hands."
As of Monday evening, the county reported 998 total confirmed COVID-19 cases, with 132 of those considered active.
Ms. Cannon said there are outbreaks at two longterm care facilities, Brookdale and Crystal Bluffs. Outbreaks in congregate living settings are defined as two or more positive cases.
Ms. Cannon said she and her staff are working with the administrators and nursing staff at the facilities to provide them guidance on how to manage the outbreak. In addition, her staff is investigating other potential outbreaks. She would not say where those locations were.
Another worry for Ms. Cannon is an increase in clusters, which is five or more cases that are epidemiologically linked and occur within 14 days.
"We've seen clusters in large gatherings — nightlife/entertainment settings and businesses and workplaces," she said.
As of Monday evening, nine deaths in Carteret County were linked to the disease caused by the novel coronavirus.
"All nine deaths were in persons over the age of 65 and all had preexisting conditions," she said.
There has also been an increase in hospitalizations.
"Over the past two weeks, we have seen more hospitalizations at Carteret Health Care due to (COVID-19), but the hospital still has plenty of capacity," she said. "Hospitalizations have been in those who are older and/or have preexisting conditions putting them at higher risk for severe illness."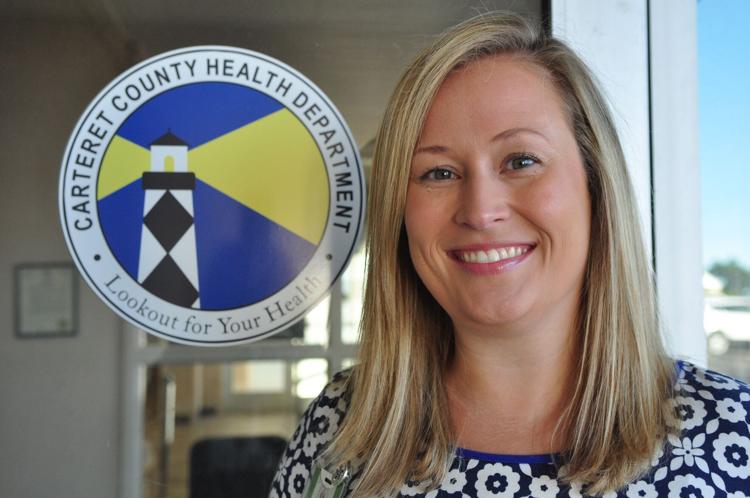 According to Ms. Cannon, there are more cases in the 25-49 and 50-64 age groups, with these groups presenting about 61% of the confirmed cases.
The percentage of cases represented by those 17 years of age and under has remained "relatively stable" over the past several months.
"They represent about 10 to 12 percent of our confirmed cases," she said.
Ms. Cannon praised the public school system for being diligent in its safety precautions, which she said has helped keep the number of COVID-19 cases down in the 17 and under age group, despite the opening of schools.
"We haven't seen the spike I expected when schools opened and I believe that is because of the stringent guidelines they continue to enforce," she said.
Ms. Cannon said she and her staff continue to work with schools on guidelines.
"The state guidelines can be challenging as to what students to allow in schools," she said. "How do you distinguish between what is COVID and what is seasonal allergies? We are continuing to work on these issues."
Board member Dr. Gregory Reichert agreed the fall has brought a challenge because of an increase in fall allergies.
"I'm living this everyday — allergies versus sinus infections versus COVID," he said.
Dr. Reichert further appealed to the public to get vaccinated for the flu.
"Please get that flu shot," he said. "Last year we didn't have one death in the county due to flu. It's going to be paramount for people to get that vaccine."
Ms. Cannon agreed, saying she has planned flu clinics to encourage the public to get their flu shots.
"It's paramount that people get their flu shots," she said. "You can get both the flu and (COVID-19). That sounds really terrible."
Ms. Cannon said she and her staff are working with Goshen Medical Center to organize two community testing events this month. Dates and locations will be announced.
As for funding, Ms. Cannon said the health department has received $390,679 in federal funds, funneled through the N.C. Division of Public Health, to assist with response efforts. The money been used in a variety of ways, from salaries for staff directly working in the COVID-19 response, to equipment and personal protective equipment.
Contact Cheryl Burke at 252-726-7081, ext. 255; email Cheryl@thenewstimes.com; or follow on Twitter @cherylccnt.