MOREHEAD CITY — In a 3-2 vote Wednesday night that followed more than three hours of public comments, the Morehead City Council approved Starling Marine's request to rezone 23 acres off Highway 24 for development of a new location for the company's boat dealership and a 72-unit senior living community.  
Along with granting the conditional rezoning request, which changed the property at 301 Highway 24 from R20, a single-family residential district, to residential multi-family and highway commercial districts, the council also approved a related land-use map amendment and contiguous annexation request for the property.
The city council held the public hearings at the Crystal Coast Civic Center during a special meeting that drew a crowd of around 200 people. After deliberation, the board voted 3-2 to approve the conditional rezoning request and map amendment, with council members Diane Warrender, who made the motion, George Ballou, who seconded, and Keri McCann in favor, and David Horton and Bill Taylor opposed.
"My feeling was that I wanted to wait until tonight to listen to everyone talk, to listen to each individual, each of the representatives present their case," Ms. Warrender said as she introduced her motion. "…I have listened to that and I have now made my decision and, so therefore I make a motion that we consider moving this forward as presented."
In a separate action, the council unanimously approved the contiguous annexation request, bringing the entire 23-acre property into Morehead City corporate limits. Due to some confusion over how to formulate the first motion to include the rezoning and the land-use plan map amendment, city attorney Derek Taylor guided the council through the wording to ensure it was adequate.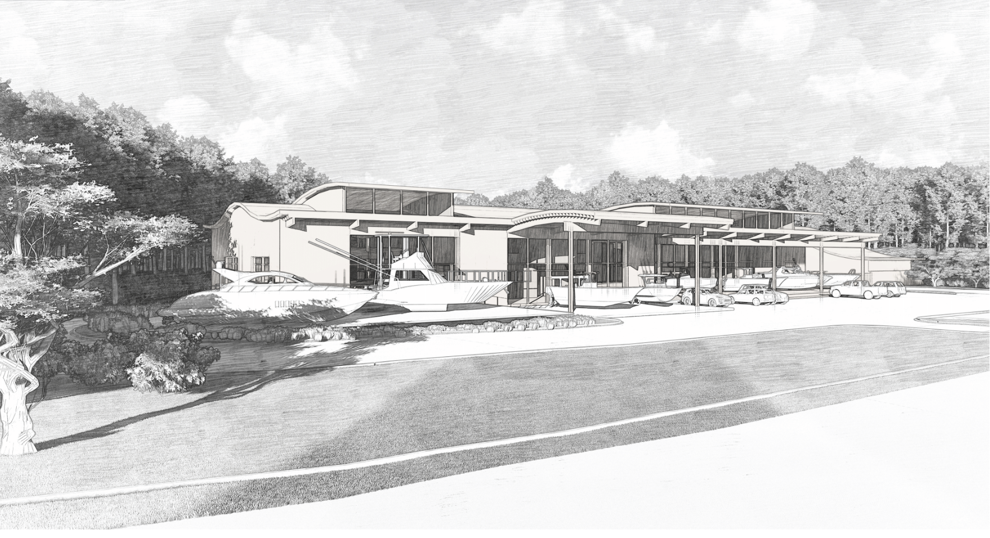 First submitted to the city's planning board last November, the rezoning request has taken winding path to get before the council for a final decision Wednesday. The applicant, Bryan Starling of Starling Marine, postponed and later withdrew the initial request after receiving pushback from some residents in the surrounding Spooners Creek communities when it was first introduced.
He then resubmitted it as a conditional rezoning request, which attaches binding conditions to the property, and the Morehead City Planning Board gave the request its recommendation of approval in February. After a couple more postponements, including one initiated by city staff in April due to an anticipated large turnout for the public hearing, the time and place was set for the council to consider the request.
Individuals on each side of the issue, the applicant and the opposition, were given an allotted time to present their position Wednesday, and Mr. Starling kicked off by giving some background on his company and the proposal at hand. He said Starling Marine, a boat dealership located at 4957 Arendell St., is looking to expand and plans to build a new facility on roughly half the Highway 24 property. On the other half, the company plans to partner with Ridge Care Senior Living to construct a 72-unit independent senior living community.
"Morehead City is our home and we take a lot of pride in our business and our community. We feel it's very important to invest in our community and help support all aspects of this great town," Mr. Starling said in his opening remarks Wednesday. "We also feel it's important to invest in our business and do everything possible to make it as great as it can be and always look for ways to improve for our customers and our community. This piece of property here we're discussing here tonight we feel does both."
Jay Horton from the architectural firm Filter Design Studio presented site plans for the proposal, focusing on the planned natural buffer areas. He emphasized the developers' intention to keep a large portion of the property, some of which is covered in wetlands, undisturbed, and he also noted it would generate little noise or light pollution.
Representatives from Ridge Care also shared information about the senior living facility, which they said will offer a new, independent living option for Carteret County's aging population. The initial plan is for 72 one- and two-bedroom units with the possibility of expanding to 95 units in the future.  
A key part of the applicant's argument centered on the fact the property, with its prime location on Highway 24 near several neighborhoods and a major shopping center, would eventually be developed, whether for commercial or residential use. They claimed the proposal they put forward is less intensive than an R20 development aligned with current zoning.
Traffic engineer Rynal Stephenson with the firm Ramey Kemp & Associates said based his estimates, the boat dealership and senior living facility combined would add fewer daily vehicle trips than would a residential development on the same parcel. The applicants also said they are willing to work with the N.C. Department of Transportation on possible safety fixes along Highway 24, including adding driveways with right-only restricted turns and contributing to intersection improvements at Harbor Drive.
Meanwhile, traffic safety was the linchpin of the opposition's argument. Nancy Fish of Woodridge Road gave opening comments for the coalition, which included numerous households across the various Spooners Creek neighborhoods. The group presented a petition with more than 600 total signatures against the rezoning.
"Our opposition to this is about the placement of the businesses at this location, not the businesses themselves," Ms. Fish noted.
A presentation by traffic engineer Lyle Overcash with the firm Kimley-Horn made up the majority of the opposition's allotted presentation time. He estimated the proposed businesses could add up to 500 new, daily trips on Highway 24, above the developers' estimated 300 daily trips. He said poor sight lines and fast speeds contribute to frequent, sometimes serious, collisions along the corridor.
"In summary, the traffic and safety situation on 24 specifically (near) this development is worsening," Mr. Overcash said. "…This rezoning puts a whole new set of safety concerns on an already complicated corridor with known safety problems."
Following the main presentations, several residents spoke in support of and against the rezoning request. Those in favor said they support it because they feel Starling Marine would be a good neighbor and the area needs more senior housing options, while many of those opposed pushed the safety aspect.
The city council spent around 30 minutes deliberating once the public hearing ended.
Councilman Taylor focused on the traffic safety issue when he gave his reasoning for voting against the rezoning request. He said even with planned improvements on Highway 24, the state's process for funding transportation projects is a lengthy one and a permanent solution for the corridor is still many years away.  
Following the meeting, Mr. Starling told the News-Times he was happy with council's vote and looks forward to moving his plans along.
"We're very pleased with the outcome, we appreciate all the support and intend to continue to work with all our neighbors, with DOT, with everybody to continue to make this project a good thing," he said.
Reporter's note: This article was last updated at 5:34 p.m. Thursday, May 20, 2021.
Contact Elise Clouser at elise@thenewstimes.com; by phone at 252-726-7081 ext. 229; or follow on Twitter @eliseccnt.