EMERALD ISLE — A surprised and emotional Greg Rudolph received the Order of the Longleaf Pine, North Carolina's highest civilian honor, during a catered barbecue luncheon Tuesday to recognize his work over nearly two decades as Carteret County's shore protection office manager.
State Rep. Pat McElraft, R-Carteret, an Emerald Isle resident who was a town commissioner when the county hired Mr. Rudolph in 2001, presented him the plaque, signed by Gov. Roy Cooper. She joked the General Assembly was set to approve the budget this week, including "a $5 million bonus for Rudi to stay in Carteret County," and called him "the only person known statewide by only his nickname, Rudi."
She thanked Mr. Rudolph's mentor, renowned East Carolina University geologist Dr. Stan Riggs, who was at the luncheon, for teaching Mr. Rudolph what he needed to know, but said Carteret County also taught him well.
"I didn't expect this," Mr. Rudolph said of the honor bestowed by the governor.
"It takes a village," he added after receiving the plaque, referring to all who aided him during his time as the county's top environmental advisor. "I hope you all give the next shore protection officer the same love and support you gave me."
The invitation-only event was in the Emerald Isle Board of Commissioners' meeting room, and close to 100 people attended, including Mr. Rudolph's family, mayors and staff of Bogue Banks towns, representatives of environmental organizations and engineering firms, as well as federal and state agency staffers.
In 20 years, Mr. Rudolph, with the help of engineers and county staff, planned and guided beach nourishment projects that placed more than 20 million cubic yards of sand on Bogue Banks beaches. He resigned in October, effective Nov. 12, to explore new opportunities.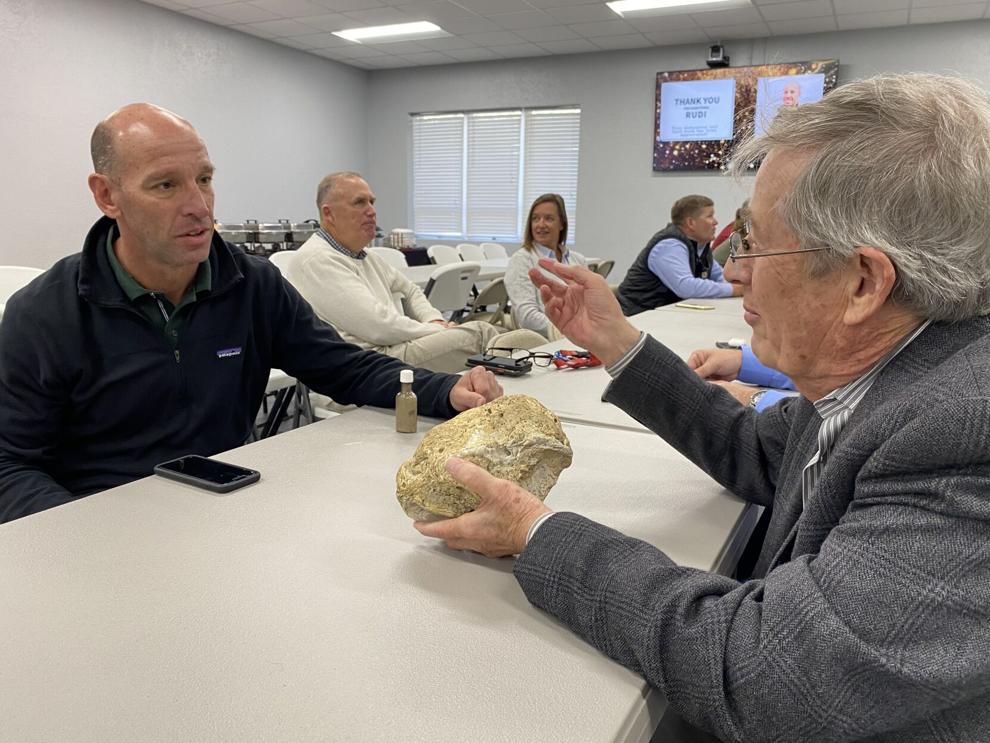 Tuesday, tears welling in his eyes and his voice cracking, Mr. Rudolph singled out his family for special thanks for helping him do his job.
It's not just the time away from home on trips around the state and country, he said, "It's the times you are home physically, but not mentally because you're thinking about work."
Jim Normile, an outgoing Emerald Isle commissioner and chairperson of the County Beach Commission, said when Mr. Rudolph was hired, he probably felt like running off a dock and doing a cannonball into Bogue Sound, in part because he was happy and also because no one at the time knew what the job entailed, it was brand new. Mr. Normile presented his friend and mentor on beach issues a boxed cannonball from the beach commission.
"You made a big splash" in Carteret County and the state, he said.
Carteret County Commissioner Jimmy Farrington presented Mr. Rudolph a plaque of appreciation from the county.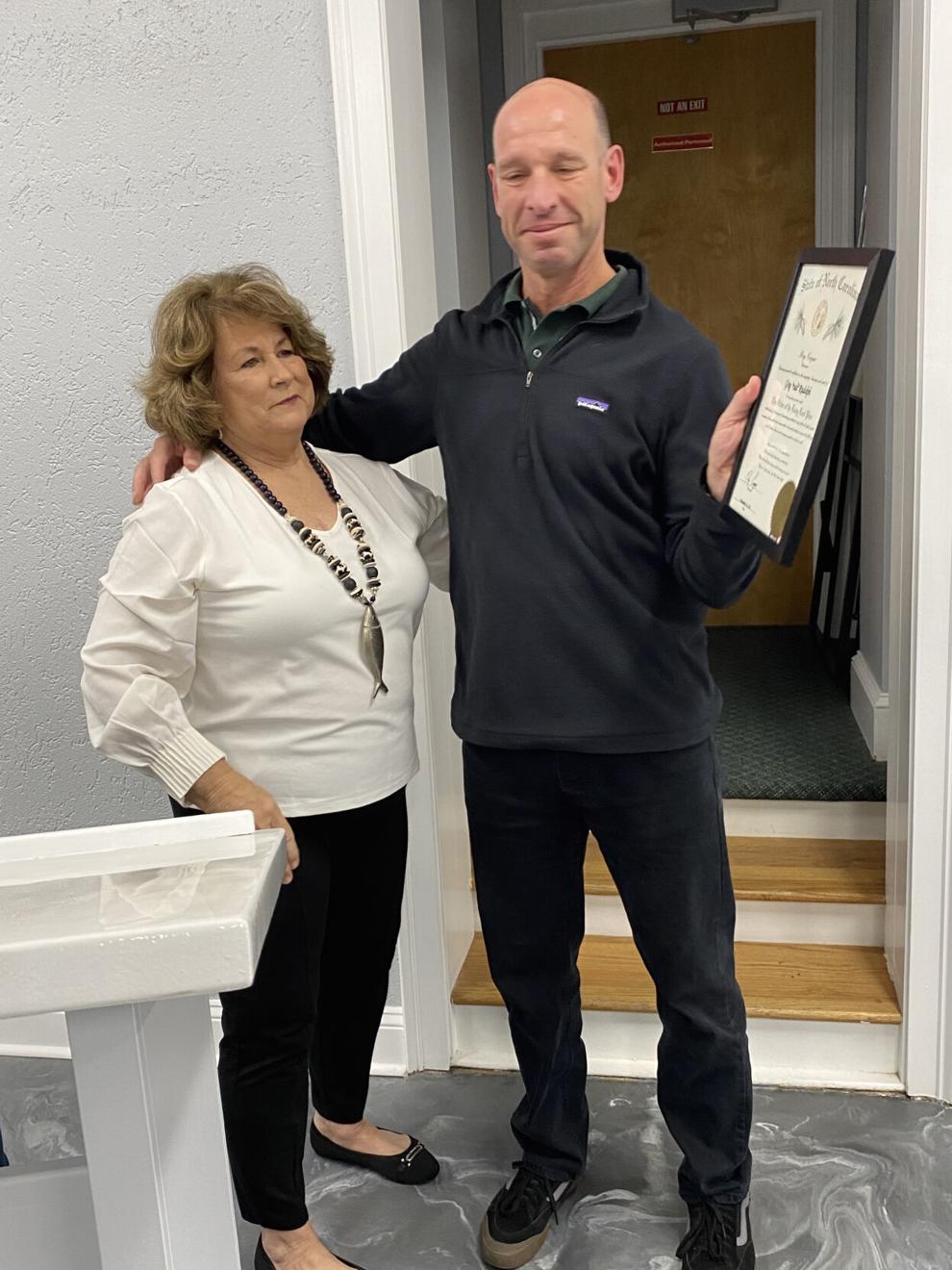 Trace Cooper, mayor of Atlantic Beach and the longest-tenured beach commission chairperson during Mr. Rudolph's service, said when he took over that position from then-Indian Beach Mayor Buck Fugate, Mr. Fugate said told him not to let Mr. Rudolph go.
"I said the same thing to Jim Normile when he took over the chair," Mr. Cooper said. "Then I got Rudi's resignation email. I said, 'Jim, you had one job!'"
Mayor Cooper presented Mr. Rudolph a framed aerial photo of nourishment work on Bogue Banks, also from the beach commission.
Janet Bradbury, on the staff of U.S. Sen. Richard Burr, R- N.C., recalled that when Mr. Rudolph came before Congress to lobby on beach issues for North Carolina and Carteret County, she'd take him around to other staffers to give "Rudi 101"
 on coastal issues, so enormous was his influence.
She gave Mr. Rudolph an American flag that had flown over the U.S. Capitol and a letter of appreciation from Sen. Burr.
Speakers repeatedly praised Mr. Rudolph for his friendliness, reliability, public service and for making complex issues easy for the public to understand.
Although Mr. Rudolph's mentor, Dr. Riggs, didn't speak at the luncheon, in a brief interview before the event he called Mr. Rudolph "the best student I ever had. He's done a great job."
Contact Brad Rich at 252-864-1532; email brad@thenewstimes.com; or follow on Twitter @brichccnt.