CAPE CARTERET — The Cape Carteret Planning Board voted unanimously Tuesday night to recommend town commissioners approve the site plan for a Lowes gas station at the intersection of Highway 24 and Enterprise Avenue.
The monthly meeting of the advisory panel was held on GoToMeeting.
Enterprise Avenue is on the south side of the highway and runs between Lowe's Home Improvement and Lowes Foods. The site of the proposed Lowes Foods-branded gas station is currently occupied by a former Marine Federal Credit Union building.
Chairperson Susan Hall led the planning board through the review to determine if the plan by Isaacs Group, a civil engineering firm based in Charlotte, complied with Cape Carteret's development ordinances. Members expressed some concern about stormwater and the possibility gas could escape an underground tank and eventually make into Deer Creek on the other side of Highway 24.
However, Brian Upton, representing Lowes, said gas tanks are designed not to let that happen and if it did, the system would detect it quickly before the gas could get far.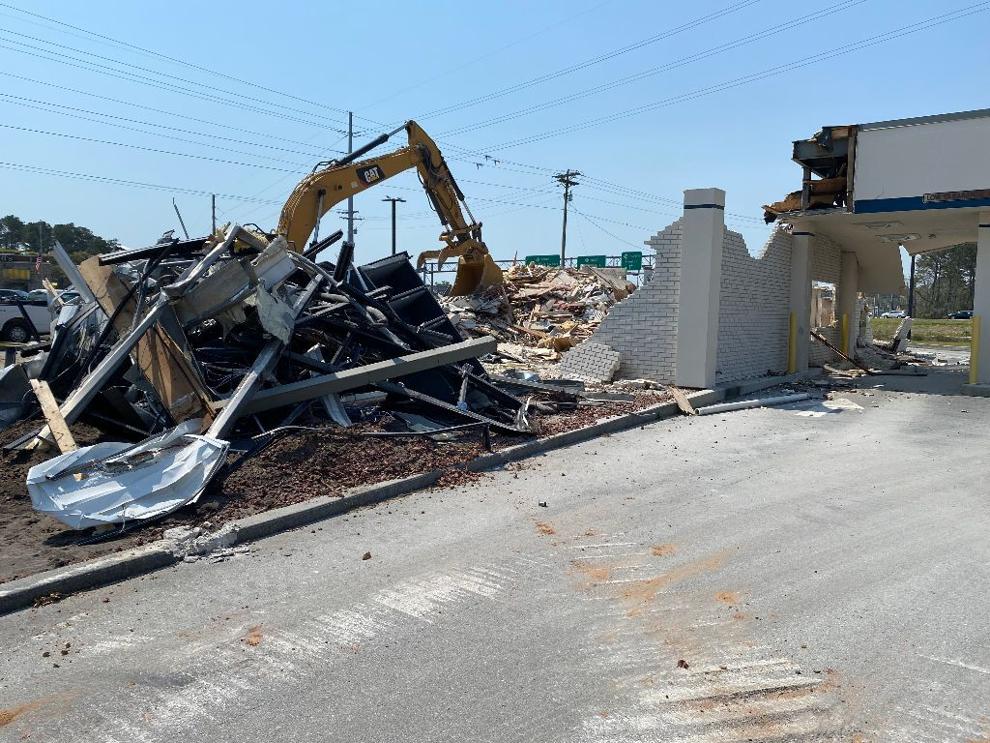 A town ordinance requires the developer to install a stormwater management system designed and certified by an engineer.
Planning board members Sarah Wax, Neil Fitzpatrick, Cameron Watts, Bruce Williamson and Ms. Hall agreed the site plan met the town's requirements. It now goes to commissioners for review and consideration.
The proposal is the second time in recent months a new business has announced plans to redevelop a former bank lot. 
The old PNC Bank in Cape Carteret is nearly gone, partly demolished Thursday to make way for a new Starbucks at 101 Highway 24, near Hardees and the Carteret Cross Shopping Center. Town commissioners approve the site plan for Starbucks in December 2020, hailing the business as a great addition to the town.
The town has been aggressively recruiting businesses in an effort to reduce the property tax burden on residential owners to pay for town services.
Also during Tuesday's meeting, the planning board voted unanimously to recommend commissioners approve a rezoning request from Aaron Horton for 332 Live Oak St. Mr. Horton wants to rezone the property from B-2 (business) conditional to the R-10 (residential, minimum lot size 15,000 square feet) district.
Editor's note: This article was updated at 1:14 p.m. Thursday, April 8, 2021, to include an additional photo of site work for a new Starbucks in Cape Carteret.
Contact Brad Rich at 252-864-1532; email Brad@thenewstimes.com; or follow on Twitter @brichccnt.