NEWPORT — Atlantic hurricane season is approaching in less than a month, and meteorologists are calling for above-average activity.
The season runs each year from June through November. N.C. State University issued its forecast for the season April 14, while Colorado State University issued its forecast April 8. The National Oceanic and Atmospheric Administration's National Hurricane Center has scheduled its hurricane season forecast for Saturday, May 15, the last day of Hurricane Preparedness Week.  
To help Carteret County residents prepare for this year's hurricane season, the National Weather Service's weather forecasting office in Newport will host a virtual hurricane community forum at 6:30 p.m. Tuesday in partnership with County Emergency Services. Registration for the forum is available at the website register.gotowebinar.com/register/3522402462568665868.
According to NCSU meteorologists, the 2021 Atlantic hurricane season will see 15 to 18 named storms, which is above the 1951-2020 average of 11 named storms per season. Of these named storms, seven to nine could grow to hurricane strength – above the historical average of six – with two or three that may become major hurricanes, which reach Category 3 or higher on the Saffir-Simpson hurricane scale.
The CSU forecast is very similar its NCSU counterpart. CSU forecasts 17 named storms, eight hurricanes and four major hurricanes for the upcoming season. Factors affecting this forecast include ocean thermodynamics, the El Nino meteorological phenomenon, precipitation in the Sahel region of Africa and dust outbreaks in the Sahara Desert.
NWS warning coordination meteorologist Erik Heden said in a Tuesday email to the News-Times Carteret County is "as prepared as any other coastal county" for hurricanes.
"I think our biggest challenge in Carteret County is continuing the message of preparing for hurricane season each and every year, and what to do," he said. "While many of us have lived through recent hurricanes and have a history to reflect back on, many new people move to our area each and every year. As neighbors, we need to teach them to not focus on just the category of a hurricane; focus on all of the impacts that may occur."
Mr. Heden said hurricane categories are based solely on wind speeds and factors like heavy rainfalls, storm surge and flooding aren't used in determining such a classification, though they all contribute to the danger of the storm.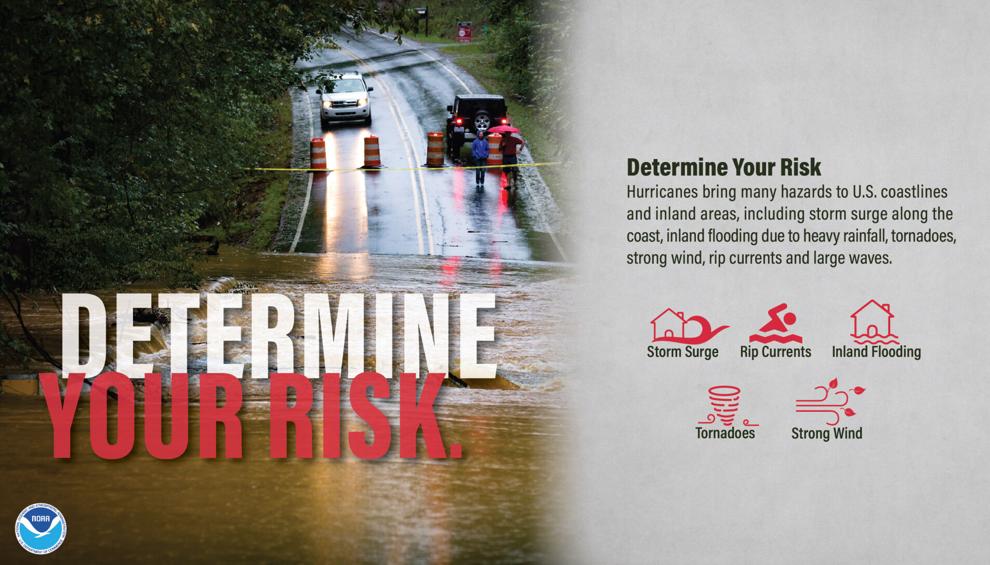 "We also need to teach (coastal newcomers) that we can have tropical systems in our area anytime from May through November," he noted.  
This hurricane season, the biggest changes to forecasting are "mainly minor ones," according to Mr. Heden.  
"Starting May 15 the NHC will begin to issue the Tropical Weather Outlook," he said. "In the past this was issued beginning June 1. The change is to capture any early May storms we have, like Tropical Storm Arthur last year."
According to the NHC website, hurricanes.gov, while the season doesn't officially begin until Tuesday, June 1, it's not uncommon for tropical cyclones to form before.
The outlook describes significant areas of disturbed weather and their potential for tropical cyclone formation within five days. Special outlooks are issued to provide updates as necessary.
Mr. Heden said the other noteworthy change this hurricane season is to the way storms are named. This year, the NHC will use a supplemental list of names if the standard tropical storm name list is exhausted. The standard list uses the Greek alphabet, excluding the letters Q, U, X, Y and Z.
The website, weather.gov/safety/hurricane, offers advice on hurricane safety, the kinds of hazards to watch out for during a hurricane and other information.
The hurricane center will also continue providing on its webpage, nhc.noaa.gov/surge/, an experimental graphic depicting expected storm surge inundation along the Atlantic coast. The graphic shows forecasted peak heights the water may reach above normally dry ground in the specified areas.
The NHC and Meteorological Development Lab are upgrading their storm surge forecasting system, P-Surge, this year, as well.
"P-Surge is the primary modeling system and guidance information," the hurricane center said, "which informs all National Weather Service coastal inundation forecasts, warnings and risk communication during tropical cyclone landfall threats."
The upgrades will best be reflected in the forecasts "35-60 hours prior to landfall, giving better overall predictability in the critical 48-60-hour lead window essential for an effective evacuation decision making and execution," according to the NHC.
Additional new or updated products the NHC is offering this season include experimental weather forecast elements added for mariners and the annual update to the track forecast error cone.
Meanwhile, the NWS Newport office offers its own hurricane preparation advice on its website, weather.gov/mhx/hurricaneprep.
Contact Mike Shutak at 252-723-7353, email mike@thenewstimes.com; or follow on Twitter at @mikesccnt.