SEA LEVEL — A fire Sunday morning destroyed the Mill Point Aquaculture clam hatchery on Norris Neck Road in Sea Level.
The blaze was reported at 5:51 a.m. by James Morris, owner of the business and Morris Family Shellfish Farms, and fire departments from Down East responded to douse the flames at the business.
Carteret County Fire Marshal Eddie Lewis said Monday the business was not insured, as it's too expensive to insure businesses on the water.
Family members said Monday they did not want to comment on the fire other than to say they will rebuild.
According to the business's website, the Morris family has been involved in seafood harvesting and sales in Sea Level for six generations.
"In 1984, we began growing delicious shellfish in the pristine waters of Core Sound located on the central banks of North Carolina," the website states. "With three generations now working on our farms, we work to bring you high quality and sustainably grown clams and oysters."
It takes two years to raise clams from seed to sale-size for stores and restaurants.
Mr. Lewis said Mr. Morris, who comes in early to check pumps and do any necessary maintenance, saw black smoke coming out of the roof when he arrived and called 911.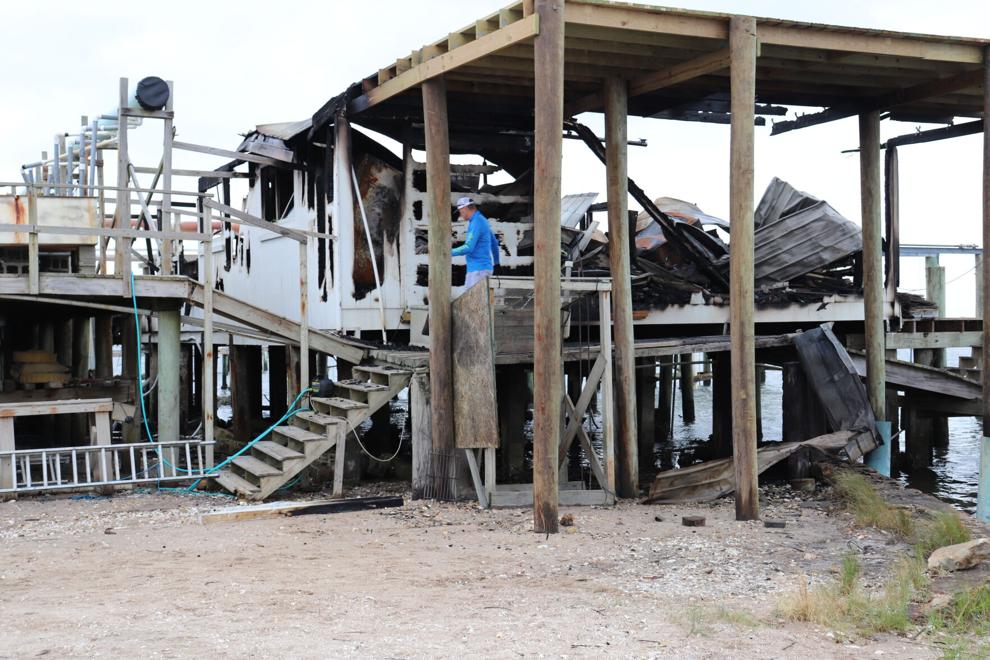 By the time the first fire truck arrived from the Down East Fire Department in Sea Level at about 6 a.m., the wood-frame building with a steel roof was "fully engaged, with smoke coming through the roof," Mr. Lewis said.
Other departments that arrived to help were from Otway, Harkers Island, Marshallberg, the county at-large and Cedar Island. The County Sheriff's Office was also on the scene.
"They all worked together very well," Mr. Lewis said. "It was smooth."
The last truck left the scene at 9:30 a.m., after the firefighters got the blaze under control.
Mr. Lewis said the cause of the fire is not yet determined, but the structure burned fast and had apparently been burning for some time before Mr. Morris arrived.
"When you see flames coming through a metal roof, you know it had been burning for a good while," he said. "Normally in a situation like this, you suspect something electric, wiring or something."
The county's tax records show the building was built in 2004, and Mr. Lewis said it was weathered by salt air and likely had some corrosion.
"That's an aggravating factor," Mr. Lewis said.
There was some wind, measuring 5 mph from the northeast in Beaufort at 6 a.m., but it was likely windier than that at the site of the fire, Mr. Lewis said.
At any rate, the wind was "a blessing because it kept the fire from spreading to other buildings" on the site, he said.
Mr. Lewis called the fire sad, because as the fishing industry has declined in recent years for a variety of factors, and some, like the Morris operation, have shifted to shellfish aquaculture, which is a growing industry.
"Now (part of) one of them has been taken out," he said.
Contact Brad Rich at 252-864-1532; email Brad@thenewstimes.com; or follow on Twitter @brichccnt.