MOREHEAD CITY — Artificial reefs offshorethe Crystal Coast could be the dumping site of demolition debris from the old Bonner Bridge in Dare County after the N.C. Department of Transportation had to change course on previous plans.
The new 2.8-mile span over Oregon Inlet opened in February 2019, and NCDOT is currently in the process of removing the old structure. Pablo Hernandez, NCODT resident engineer for the Manteo office, said the original plan was to place the material at four artificial reef sites between 6 and 13 miles offshore Oregon Inlet.
NCDOT's contractors started doing just that in May 2019, hauling more than 1,000 tons of concrete at a time on large barges and dumping the material at the four offshore sites. Mr. Hernandez said that went on without issue until December, when barges became unable to cross due to shoaling of the inlet.
The barges, and especially the tug boats that pull them, could no longer safely cross Oregon Inlet, which is maintained by the U.S. Army Corps of Engineers. The ACE has been unable to properly maintain an adequate water depth due to a lack of funding.
"We had to start utilizing an inland route," Mr. Hernandez said.
At first, NCDOT directed the material be sent north to Norfolk, Va., via the Intracoastal Waterway, then back down the coast to the other side of Oregon Inlet. It turned what should be about a 10-mile trip into a multiday, 215-mile journey. It also added about $33,000 extra to each trip above what the department was already paying to have the contractor haul and dump the material.
After a couple months, Mr. Hernandez said the towing company asked NCDOT for an alternate route because the way north could be dangerous due to strong winds, narrow passages and several bridge crossings. So, the department started sending the material south, where it makes a stop at the State Port of Morehead City before turning around up the coast to its final destination off Oregon Inlet. 
The trip south may be safer, but it is longer and more expensive than any other alternative. However, NCDOT realized it could save about $2.5 million of the estimated $4.5-5 million in additional project costs if the contractor could dump debris material at existing artificial reefs off Carteret County instead of Oregon Inlet.
Mr. Hernandez said NCDOT has submitted applications for permit modifications to the necessary agencies to be able to dump the material offshore Carteret County for the remainder of the project, approximately 30 more loads.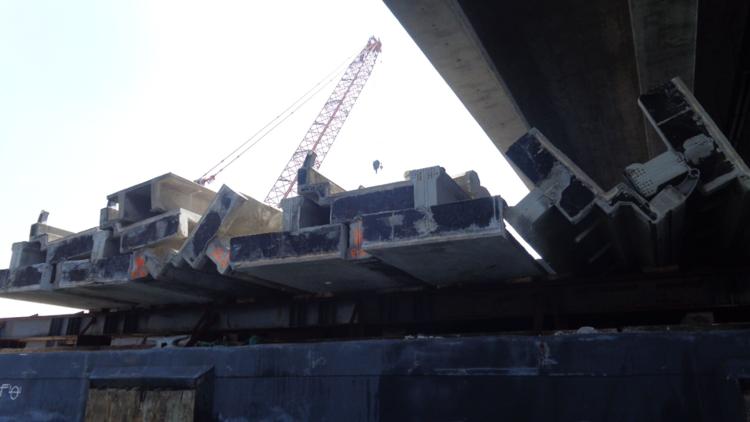 As of July 14, the N.C. Division of Marine Fisheries and Division of Coastal Management are reviewing a Coastal Area Management Act permit modification application from NCDOT. DMF Public Information Officer Patricia Smith said NCDOT proposes placing Bonner Bridge debris on two sites in Carteret County, one off the coast near Pine Knoll Shores and the other about 14 miles southwest of Beaufort Inlet.
"DMF wrote a letter to DCM stating the material is suitable for the sites," Ms. Smith said. "The required permits are still in process, and DMF and DCM are working with all interested parties to find a satisfactory solution."
Some Bonner Bridge debris material was already placed in waters off Carteret County. Ms. Smith said in April, DMF allowed NCDOT to place a load of material at the Pine Knoll Shores site. Mr. Hernandez said it was necessary because the barge carrying the material was stuck at port for several days due to poor weather.
"AR-320 (the Pine Knoll Shores site) previously had been permitted for up to 4,000 tons of bridge material from the Gallants Channel Bridge," she said. "None of the Gallants Channel Bridge material was ever placed at the site."
NCDOT has had Carteret County in mind as a backup destination for bridge debris since December, when the need for an alternate route first became apparent. Ms. Smith said NCDOT has received all the necessary permits to place materials from the demolition project at sites offshore Oregon Inlet.
"In December, (NC)DOT wrote a letter to DMF," Ms. Smith said, "discussing the possibility of placing the bridge materials on artificial reefs off Carteret County due to shoaling at Oregon Inlet that is forcing them to go through Beaufort Inlet to get to the Dare County reef."
Dare County commissioners recently passed a resolution in opposition to NCDOT's plan to dump debris off Carteret County. Mr. Hernandez said it's been about a decade since artificial reefs offshore Dare County have received any material, whereas Carteret County's reefs were built up in recent years.  
"As a transportation department, we're looking at it from a financial and efficiency standpoint," he said.
Contact Mike Shutak at 252-723-7353, email mike@thenewstimes.com; or follow on Twitter at @mikesccnt.
Contact Elise Clouser at elise@thenewstimes.com; by phone at 252-726-7081 ext. 229; or follow on Twitter @eliseccnt.