NEWPORT — The Newport Disaster Recovery Center that has housed hundreds of work teams helping repair Carteret County homes damaged during hurricanes Florence and Dorian will close Friday, July 10.
The N.C. Conference of the United Methodist Church Disaster Ministries opened the center in early 2019 at St. James United Methodist Church in Newport.
Disaster center site supervisor Greg Ehrler said Wednesday because of the shortage of volunteers due to the novel coronavirus pandemic and a decline in donations, officials decided to close the center.
"We have two more houses to finish, and the rest of our outstanding cases are being transferred to the Carteret Long Term Recovery Alliance," he said.
The CLTRA is a local nonprofit that is organizing repair and recovery efforts on hundreds of county homes.
The Newport center is one of two being closed in the area by the United Methodist conference. A center in Swansboro is also being closed, with those cases being transferred to CLTRA, as well.
Mr. Ehrler, a member of Ann Street United Methodist Church in Beaufort, said he and leaders at the church are hoping to expand emergency response team operations in the wake of the Newport center closure.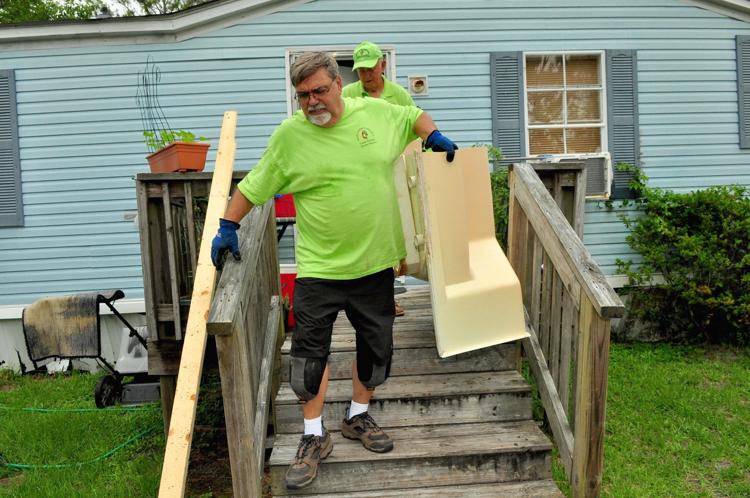 He and several members of Ann Street volunteer with county disaster recovery teams, including CLTRA. The church already operates an emergency response ministry and has housed small teams in its Eure Education Building.
"We're looking into renovating the upstairs of that building to house more teams," he said. "We've already moved the bunk beds from the Newport Center to Ann Street. We've also moved other supplies and office equipment."
Mr. Ehrler said while he's saddened to see the Newport center close, he is grateful to the nearly 2,000 volunteers that have come from across the United States in the past two years to repair homes.
He's also looking forward to expanding the disaster response ministry at Ann Street.
"We have finished over 70 homes in the last two years and we actually have a team from Raleigh in right now helping finish up repairs at two houses," Mr. Ehrler said.
Rose Tankard, a case manager with the Newport Disaster Center, said while the center was open, it hosted 1,993 volunteers who completed 79,720 hours of labor.
"We estimate the volunteers provided over $2 million worth of labor," Ms. Tankard said.
As the two area United Methodist disaster centers prepare to close, CLTRA Executive Director Robbie Phillips said Wednesday in an email that organization will add 192 hurricane survivors to its caseload, bringing their waiting list of cases to about 600.
"We have 39 active cases right now, 15 under construction," she said. "Covid has hit our volunteer workers really hard. We're keeping cases moving, but using contract labor, which is way more expensive."
She added that CLTRA had anticipated the United Methodist center would eventually shut down, but she had not expected it to be so soon.
"We certainly were hoping they would be around another year or two. It saddens me," she said. "We look forward to our partnership with Ann Street UMC though. We have a great relationship with them. Many of the staff with the conference are members of Ann Street, so we look forward to bringing their volunteer help and expertise into CLTRA."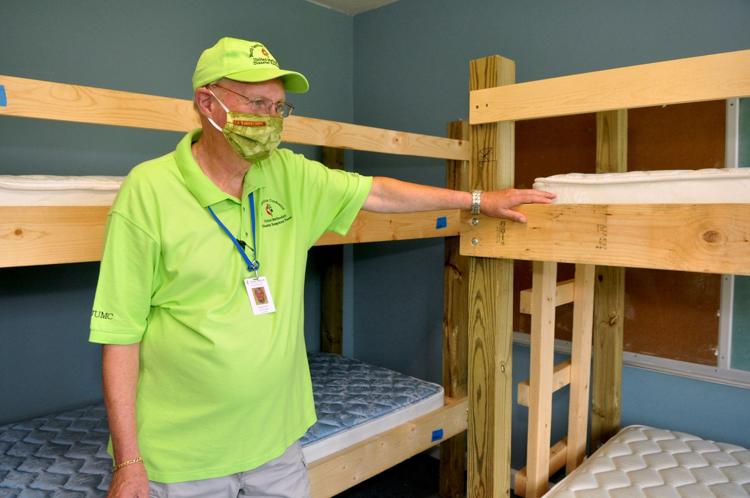 While disaster response teams continue to repair homes for hundreds of county residents, some still out of their homes, Ms. Phillips said she is keeping a watchful eye on this summer's hurricane season.
"I didn't believe, when we were told, it was going to take 5 (to) 7 years to recover, that is if we don't have any more storms, but I'm a believer now," she said. "We've already had 2 tropical storms and one hurricane since Florence and now Covid. The need is real. Lower income survivors are hurting right now. It takes a village, and it's going to take 7 to 10 years. Bad news, but the good news is, we're here. We're not going anywhere."
For hurricane survivors like Patrina Osmore of Morehead City, whose doublewide was being repaired Thursday by the UMC work team, knowing there are volunteers who care provides hope. In addition to hurricane damage, Ms. Osmore, who delivers newspapers for the News-Times, was laid off from another job due to the pandemic.
"I had a tree go into a bedroom last year during Dorian, and I still have a lot of repair needs from previous hurricanes," she said. "I've tried to do a lot of the work myself, but there are a lot of things I can't do by myself. I am so grateful for the help. I can't stop crying because I am just so grateful."
While she's waited for nearly a year to get help, Ms. Osmore said her faith has kept her going.
"If I could say anything, it's that I've had my Bible and I read it every day. That's what's gotten me through," she said.
Contact Cheryl Burke at 252-726-7081, ext. 255; email Cheryl@thenewstimes.com; or follow on Twitter @cherylccnt.