MOREHEAD CITY — It's all hands on deck as Carteret County employees assist the County Health Department in keeping up with the overwhelming volume of phone calls from residents seeking COVID-19 vaccinations.
From the assistant county fire marshal to County Veteran's Services employees, 10 staff members from various departments are managing a phone bank set up in the County Emergency Operations Center.
County Emergency Services Director Stephen Rea said Tuesday the phone center opened Monday and would remain open as long as it's needed.
"Right now we're open 8 a.m. to 5 p.m. seven days a week," Mr. Rea said.
When the center first opened, county employees were placing those age 75 and older on a waiting list for vaccinations being administered at the health department. However, that has changed as of Friday, with those age 65 and older now included in the new N.C. Department of Health and Human Services' current vaccination phase.
County health officials said that will dramatically increase the number of calls coming into the center, and Mr. Rea appealed to the public for patience.
"It is a long waiting list," he said. "Please be patient. We will get everyone a vaccination as soon as we get the vaccine."
Mr. Rea said it's been a daunting task to keep up with the number of phone calls coming into the center since opening Monday. As of Thursday, there were more than 4,000 individuals on the waiting list, and he said the center is averaging about 750 calls a day.
Once on the waiting list, health department workers will contact prospective recipients as more vaccine is received. Residents can also register online.
County Health Department Director Stephanie Cannon said she doesn't find out until Thursday or Friday of each week how many doses of the vaccine the county will receive from the state for the following week, and the amount of doses received is far fewer than the number of residents waiting to be vaccinated.
County officials said Friday the health department will receive 400 initial doses and 100 secondary doses for this week. The secondary doses are reserved for those who had their initial dose and need an additional to complete the vaccination process.
Carteret Health Care is also receiving 400 initial and 975 secondary doses.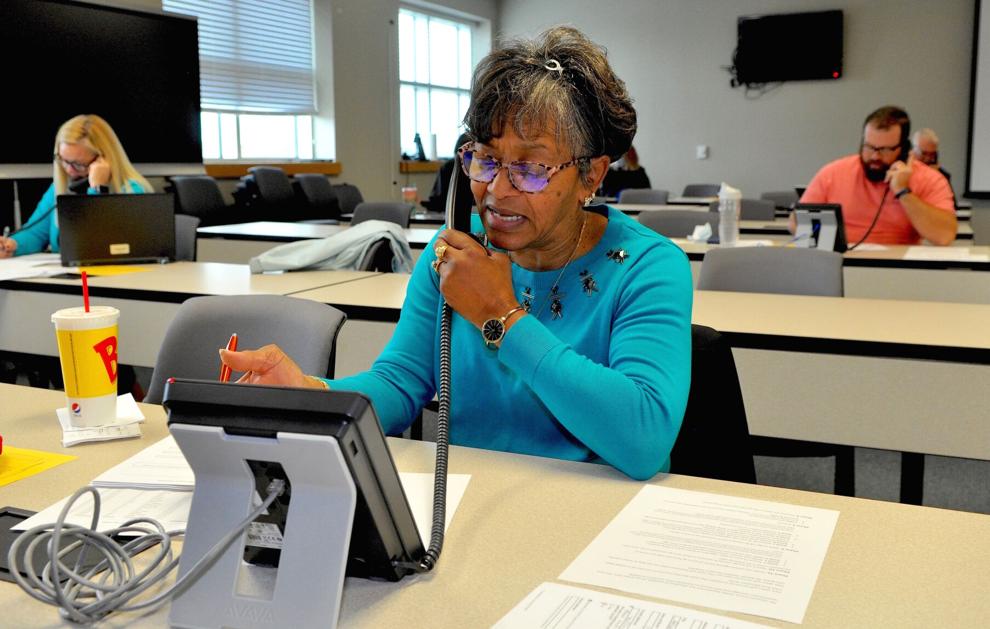 "The Health Department and Carteret Health Care are working in conjunction to quickly schedule these 800 appointments with those individuals already listed on the vaccine appointment waitlist," according to a county press statement.
As of Wednesday, 1,854 county residents had received their first dose of the vaccine and 369 had received their second dose, completing the series, according to the NCDHHS website.
Bill Blair of Beaufort was among those who received his first shot Friday morning.
"It went beautifully and I didn't have any problems," he said. "I got the vaccination because I think it's the right thing to do."
Ms. Cannon, the health director, thanked the county for pitching in to provide additional staff to help field the large amount of phone calls.
"This is a true example of team work," she said.
As far as scheduling personnel to handle the phone bank, Mr. Rea said each department head assigns employees as needed.
"We may have someone from a department for one day a week or more, depending on what they do," he said.
It's been a wide range of departments chipping in to help, including the economic development, parks and recreation, the senior center, paramedics, the fire marshal's office, veteran's affairs, emergency services, finance and more.
Mr. Rea's duties will temporarily increase as of Feb. 11, which is the last day Ms. Cannon will serve as health director. She resigned her position, effective Feb. 11, to accept another job offer. Ms. Cannon has declined to provide more information.
While the county searches for her replacement, Mr. Rea will provide the emergency coordination and response to the pandemic.
"My role is going back to emergency response and serving as incident commander," he said. "I'll oversee the planning for vaccination clinics."
As for the revamped state health vaccination categories, they are: Group 1, health care workers and long-term care staff and residents; Group 2, older adults; Group 3, frontline essential workers; Group 4, adults at high risk for exposure and increased risk of severe illness; and Group 5, everyone.
To request to be placed on the county waiting list, visit carteretcountync.gov/Vaccine or call 252-728-8550, option 2.
To learn where you fall in the NCDHHS vaccination plan, visit YourSpotYourShot.nc.gov.
For more information on the North Carolina vaccine distribution process, visit covid19.ncdhhs.gov/vaccines.
Contact Cheryl Burke at 252-726-7081, ext. 255; email Cheryl@thenewstimes.com; or follow on Twitter @cherylccnt.