BEAUFORT — Like countless others, Richard Johnston of Sanford is planning a trip to Carteret County this Sunday.
But he isn't anticipating a day in the sun and surf, a respite from the cares of the world. No, it's much more a somber occasion: He wants to see the unveiling and dedication of a new monument by the nonprofit Carteret County Carteret County Gold Star Family Monument group.
He doesn't have a direct connection to Carteret County, but his son, James Johnston, who died in combat June 25, 2019, in Afghanistan at age 24 while serving as a sergeant in the U.S. Army Special Forces, does.
James Johnston trained in Florida and was a close friend of Sgt. James Slape, son of Trish Slape of Morehead City. James Slape is being honored on the monument for his service and death in the Helmand Province of Afghanistan while serving in the N.C. Army National Guard.
Speaking on the phone Wednesday, his late son's birthday, Richard Johnston fought back tears occasionally for more than half an hour.
"I love talking about my son," he said. "He was a hell of a man. He was a true patriot. He was carrying a folded American flag with him when he was killed."
Richard Johnston's father was in the U.S. Marine Corps and the US. Air Force. Richard was in the U.S. Army, in the famed 82nd Airborne Division, based at Fort Bragg in Fayetteville. He's been to other Gold Star monument dedications and said he wouldn't miss this one for the world.
The monument at Courthouse Square in Beaufort will honor the ultimate sacrifice some military members and families have made.
Richard said his son, James, strongly supported the 2nd Amendment and believed in always honoring the American flag. He believed it was right to put his life on the line to support his country and way of life.
To those who have served and those who have lost someone who served, Richard Johnston said, the American flag "means more than anyone else could ever understand."
Sgt. James Johnston, often called Jamie, was an explosive ordnance disposal specialist. He was killed, along with another member of his unit, Green Beret Master Sgt. Michael Riley, in close combat gunfire while chasing terrorists in Uruzgan Province. It was James Johnston's seventh mission.
Sgt. Johnston previously served a year in Korea, his father said Wednesday, and "fought to get to go to Afghanistan. He wasn't supposed to go. He wanted to. He felt compelled."
The U.S. war in Afghanistan started in late 2001, when James Johnston was just short of 7 years old, after terrorists led by Osama bin Laden, then in Afghanistan, attacked the World Trade Center and The Pentagon Sept. 11, 2001. It was a galvanizing moment for many, even some as young as James Johnston, as endless loops of the attack rolled on TV.
But even before that, James seemed certain to be a solider of some sort. As a kid growing up with long military lineage in Texas, Richard Johnston recalled James dug foxholes in the yard, wearing camouflage and shorts in searing heat.
The family eventually moved to Trumansburg, N.Y., where James played on the high school football team as a lineman and was a volunteer firefighter. As soon as he graduated, he enlisted in the Army. No one, Richard Johnston said, was surprised.
James and his wife-to-be, Krista met in high school, and he proposed to her during his training in Florida. The proposal was on a note in a bottle on a trail, the pickup arranged by James. They married a couple months later.
Krista, Richard Johnston said, told James she was pregnant the night before he was to ship out to Afghanistan. About two months later, Krista told James the baby was a girl.
Richard Johnston said his son started thinking and talking about "getting out," preparing mentally for civilian life and fatherhood. But on that fateful June 25, James messaged Krista about his mission. She responded but never heard back.
The baby was originally due Nov. 28, but arrived early, fittingly, on Veterans Day, Nov. 11, a little less than five months after James died. Krista named her Jamie Avery Grace Johnston.
There was another side of James, far different from the tough-as-nails soldier, the expert marksman who removed ordnance from battlefields, Richard Johnston said. His son loved bright Hawaiian shirts, started wearing them in high school and wore them in Korea and Afghanistan when he could, to lighten the mood.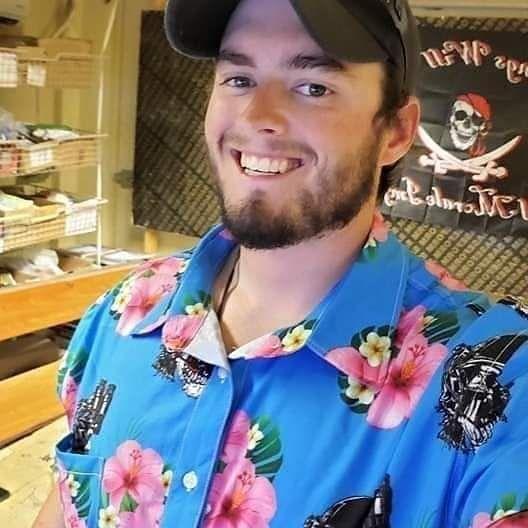 When James Johnston's unit returned from Afghanistan to Fort Hood, Texas – the same place Krista had said farewell to her departing husband six months earlier – Richard and Krista Johnston were there. Every soldier who got off the bus was wearing a Hawaiian shirt, Richard Johnston said.
"He was loved, he was a leader," the father said Wednesday.
Richard Johnston said he'll be proud to represent his son at the unveiling of the monument in Beaufort Sunday, which will honor Sgt. James Slape, whose Gold Star mother Trish Slape and Beaufort Gold Star mother Maria Myers spearheaded the fundraising for the structure that will be dedicated at 2 p.m.
Ms. Myers' son, Donald, an Army Apache helicopter pilot, died in a training exercise in 1997. That led to a life mission for the now 81-year-old Ms. Myers.
Richard Johnston went to another monument unveiling Sept. 10 in Virginia. Each is important and meaningful, he said, but certainly none more than this one.
He said he very much appreciates the efforts of Ms. Myers, Ms. Slape and their friend, Fred Harvey of Beaufort, to raise the money for the memorial over a period of several years.
It's important, Richard Johnston said, to have monuments that show "endless love … for those who have fallen and those who remain behind."
Contact Brad Rich at 252-864-1532; email Brad@thenewstimes.com; or follow on Twitter @brichccnt.