MOREHEAD CITY — The county's restaurants are reopening, tenuously but enthusiastically.
Phase two of N.C. Gov. Roy Cooper's COVID-19 quarantine easement strategy allowed the state's restaurants to reopen at half capacity May 22, leading to an unpredictable Memorial Day weekend for the businesses.
"We're happy with how it went," Floyd's 1921 Restaurant Manager Jason Eure said. "It was a good amount of people. It was perfect for a test run, to allow us to test some of those social distancing aspects without stressing the system."
He added, "The staff is very happy to be back. The guests, likewise, were thrilled to get out of the house. We got comments like, 'Wow, I haven't been a restaurant in two months.' There was lots of happiness all around."
In Beaufort, Roland's Barbecue saw a smaller crowd than usual, as people branched out to visit other newly opened establishments. The Beaufort staple stayed open for takeout through the quarantine period, but the dining room will remain closed for the time being. Diners picking up to-go food are required to wear a mask.
"Ironically, the biggest downtime we've seen so far is right now after Memorial Day weekend," General Manager Allison Vickers said. "This wasn't a busy weekend like it would normally be. We're not too far off the mark, but there is a noticeable difference."
Roland's dining room is still closed, while other restaurants simply delayed their openings until after the holiday weekend. Three Morehead City restaurants have seen staggered starts –
Off the Hook opened Thursday, Tight Lines Pub & Brewing Co. opened Friday at noon and Southern Salt Seafood Company Friday at 5 p.m.
Many restaurants are sticking to reservations-only dining-in, such as Amos Mosquito's in Atlantic Beach. It's a necessary tool in a post-quarantine world where traditional forecasting methods no longer apply.
"We're taking reservations every night for dinner, which is something we usually only do twice a year," Owner Sandy Howard said. "It helps us understand what's coming that night and properly prepare. It has been a challenge. Every week, every night, it's going to change. It's going to feel different for a while."
There have been other, physical precautions put into place as well. Many restaurants have servers and other front-of-house personnel wear masks and feature several sanitation stations, particularly in high-traffic areas such as outside bathrooms and at the front door. Tables also are spaced out at least 6 feet per social distancing standards set down by the state, a measure easy enough for some at half capacity but a challenge for others.
"We're actually having trouble meeting our max (half) capacity with the tables spaced out the way they are," Howard said. "But I understand the precaution."
Floyd's 1921, on the other hand, has not been able to reach the half capacity allowed, simply for a lack of guests.
"We have not maximized our potential, even under the social distancing rules," Eure said. "We got close over the weekend, but we didn't have a situation where we had people waiting. We're still confident, but we believe Memorial Day weekend probably set the tone for what the rest of the summer season will likely hold."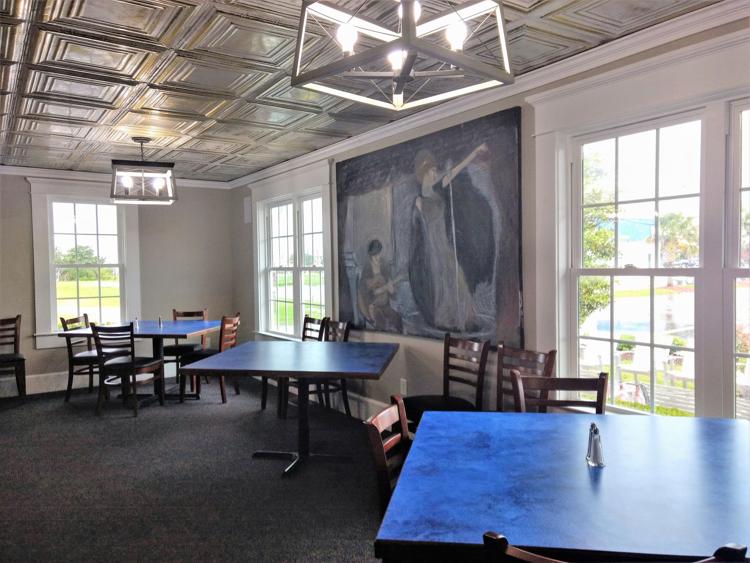 There are still plenty of questions left to be answered, such as how restaurants contend with seating at the bar when bars and night clubs were left out of the phase two group of businesses permitted to reopen.
"We're a restaurant that serves alcohol. People eat at our bar," Eure said. "But we know bars are closed, so to eliminate all confusion, we have taken the stools away from our bar until we get a definitive answer on that question from the state level."
As expected, there will also be clarification of the rules needed going forward for many restaurants as they contend with travelers unfamiliar with the protocol in place or diners simply looking to fast-forward the easing of restrictions.
"The biggest thing I've taken away from this is, I was under the assumption that both the public and the business operators would read from the same playbook," Eure said. "And I suppose they do in some sense, but I am the expert of authority on what happens in these four walls. We get folks who ask, 'What can we do (to help),' and then we get people who have no idea about the rules because they're from another state or they're in the vacation frame of mind. They're looking to do something that's against the rules. We just have to reeducate people."
There has been a surge of restaurant hiring over the last two weeks as businesses anticipate a swell of diners, even during a summer season hampered by health and safety measures.
"At the very beginning, I laid off two employees," Vickers said. "But they've been back since May 5. It just so happens that I hadn't started hiring for the summer yet, so right now, bringing back two employees is all we need. If we open the dining room, then I'll have to hire some more folks. Our staff is usually 15-16, and right now we're at 11."
Another big change for restaurants has been a lack of catering demand. With large groups of people unable to gather, the service has been virtually impossible.
"We've missed a lot on the catering side, between parties, weddings and other get-togethers," Vickers said. "This Memorial Day weekend, we had orders for over 600 people that had to be canceled because of COVID-19."
Vickers has been in the business for 21⁄2 decades, experience that paid off with a preemptive dry goods order when the quarantine hit.
"When all this started happening," she said, "I made sure to stock up on things like to-go boxes and plastic-wrapped silverware, things I knew wouldn't go bad and might be difficult to find later. And sure enough, with all of the restaurants opening, those things are hard to come by now. I've been in this business for 25 years, and I've never seen anything like this."
The supply chain is the next-biggest concern for restaurants as the surge of reopenings weighs heavy on food suppliers.
"The supply chain has been hit hard," Eure said. "We've had to make changes to the menu, because we aren't always sure what or how much we'll be able to get. Thankfully, (Executive Chef) Floyd (Olmsted) has been able to keep most of the things on the menu. Worst case scenario, we're prepared to change the menu weekly. We're not there yet, but we understand we have to be fluid. It's not as simple as sitting down and ordering things anymore."
Roland's has not seen any supplier hiccups, save for the odd side item here and there.
"I get my chicken from Bridgeton and pork from Wilson, and they have not had any disruptions," Vickers said. "That's another thing we're thankful for. A couple weeks ago, I couldn't find any mashed potatoes. It's stuff like that, stuff you wouldn't expect to be unavailable. It has been like that week to week, with little unexpected surprises."
More changes are expected with the implementation of phase three, which is expected to begin Friday, June 26, leaving restaurants to simply bide their time and continue working toward a profitable medium.
"When this all started, we set some realistic, small goals," Eure said. "We wanted to keep the restaurant open and pay the bills. Obviously, those goals have grown now that we have tables open. Right now, we're just taking in the small piece of normalcy we can get."