BEAUFORT — Like many other traditional events held in historic Beaufort, the Old Homes Tour and More was canceled last summer amid the coronavirus pandemic. But lovers of historic properties – or those that just like to poke around cool houses – will have the chance once more this week.
The Beaufort Historic Association's Old Homes Tour and More returns with events Wednesday through Sunday, June 27. The home and garden tours run from 10 a.m. to 5 p.m. Friday and Saturday, with 29 participating locations.  
"We are ready to bring back this beloved tour that really brings together our community and shows everyone just how great Beaufort is," BHA Executive Director Patricia Suggs said in a release announcing the event.
The tour features private homes, gardens, churches and artists' studios, and ticketholders can also enjoy the Beaufort Historic Site off Turner Street.
Attendees will notice more gardens and art studios than in years past, Ms. Suggs told the News-Times.
"When we started putting it together, we weren't even sure we could have a tour," she noted.
The BHA will abide by the governor's latest orders regarding coronavirus safety, particularly that those who are vaccinated do not have to wear a mask while on BHA grounds or while touring. Individual homeowners on the tour may require mask wearing by all attendees, however.
Ms. Suggs said the homes on the tour are "so very different this year," it was hard to pick a crowning jewel.
"Most are pretty casual, a lot have just gorgeous furnishing," she said of the private homes featured. Many, if not all, were set to be on the 2020 tour prior to the onset of the pandemic.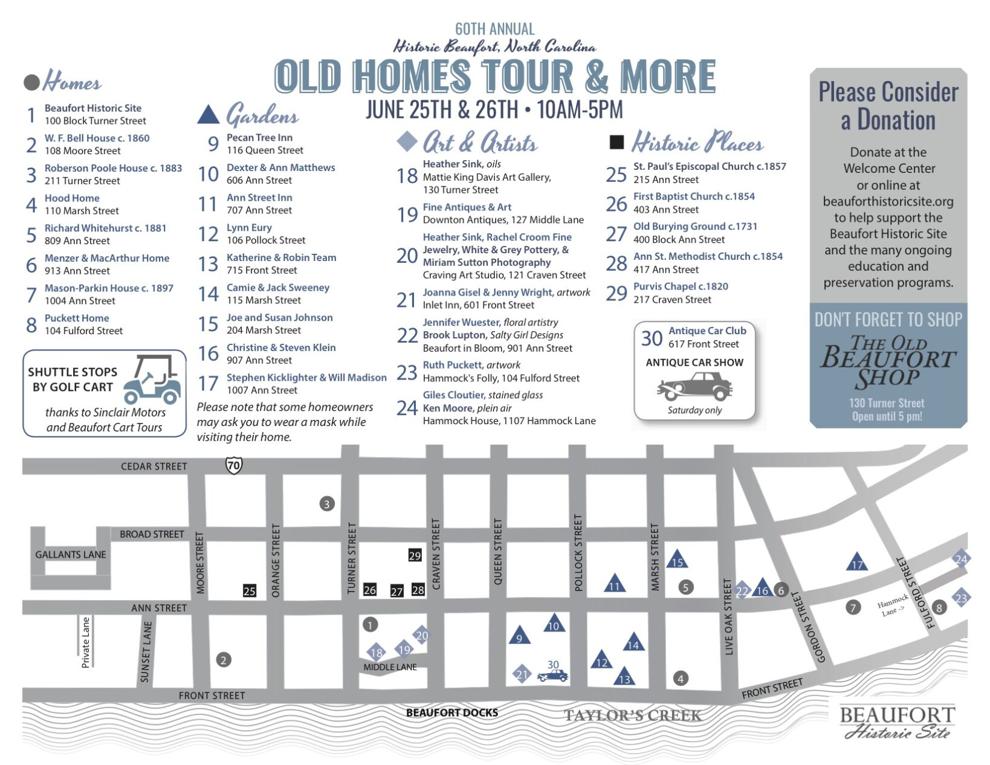 Homes on the tour include:
The W.F. Bell house at 108 Moore St., circa 1860, owned Charlotte Post.
The Roberson Poole house at 211 Turner St., circa 1883, owned by Laura and Ike Adams. This home is new to the tour this year.
The Hood home at 110 Marsh St., owned by Elizabeth and Frank Hood. This house has new owners since it was last on the tour.
The Richard Whitehurst house at 809 Ann St., circa 1881, owned by Heidi and Jim Radford. This house has new owners since it was last on the tour.
The Menzer and MacArthur home at 913 Ann St., circa 1897, owned by Dr. Frieda Menzer and Dr. Robert MacArthur. This home has been on a previous candlelight tour.
The Mason-Parkin house at 1004 Ann St., owned by Laurel and Greg Sanders. This home is new to the tour this year.
The Puckett home at 104 Fulford St., owned by Steve and Ruth Puckett. This home has recently undergone remodeling after being damaged during a hurricane.
In addition, the gardens, places and art studio tours include:
The Pecan Tree Inn at 116 Queen St.
The Dexter and Ann Matthews garden at 606 Ann St.
The Ann Street Inn at 707 Ann St.
The Lynn Eury garden at 106 Pollock St.
The Katherine and Robin Team garden at 715 Front St.
The Camie and Jack Sweeney garden at 115 Marsh St.
The Joe and Susan Johnson garden at 204 Marsh St.
The Christine and Steven Klein garden at 9007 Ann St.
The Stephen Kicklighter and Will Madison garden at 1007 Ann St.
Fine Antiques & Art at 127 Middle Lane.
Heather Sink, Rachel Croom Fine Jewelry, White & Grey Pottery and Miriam Sutton Photography at 121 Craven St.
Joanna Gisel and Jenny Wright artwork at 601 Front St.
Jennifer Wuester floral artistry and Brook Lupton designs at 901 Ann St.
Ruth Puckett artwork at 104 Fulford St.
Purvis Chapel at 217 Craven St., circa 1820.
St. Paul's Episcopal Church at 215 Ann St., circa 1857.
First Baptist Church at 403 Ann St., circa 1854.
Ann St. Methodist Church at 417 Ann St., circa 1854.
Ms. Suggs said a tour-favorite, the Hammock House at 1107 Hammock Lane, will not be open, but owner and artist Giles Cloutier will host live stained glass demonstrations on the property.
Tour events began June 5 with an art show from featured artist Heather Sink. Her work, including a new set revealed for the event, will be featured through June and July at the Mattie King Davis Art Gallery on the historic site.
Beginning Wednesday at noon, four New York Times best-selling authors will participate in a literary luncheon at the Coral Bay Club in Atlantic Beach. They include Mary Kay Andrews, Mary Alice Monroe, Patti Callahan Henry and Kristy Woodson Harvey. Guests will have the chance to hear from the authors while they enjoy lunch during the sold-out event.
At 6:30 p.m. Wednesday, attendees can take part as a "live studio audience" for the Friends & Fiction group's live YouTube and Facebook special episode. Tickets to attend the filming are $40.
The final event at 11 a.m. Sunday, June 27 is the Southern Brunch, hosted by Deborah and Charles Llewellyn. The brunch will be catered by Scarborough Fare and feature live music from Blue Moon Jazz. Tickets are $100.
Tickets for the BHA's Old Homes Tour and More are $20 and on sale now at the historic site or online at beauforthistoricsite.org.
Contact Jackie Starkey at 252-726-7081, ext. 225; email jackie@thenewstimes.com; or follow on Twitter @jackieccnt.