CAPE CARTERET — Two years after it started, Cape Carteret's project to honor military veterans is flying high, with more than 40 banners hanging from light poles along Highway 24 and other streets to memorialize those who have served their country.
The brainchild of Town Manager Zach Steffey, the banner program has been a rousing success, according to the manager.
"It is a great way to honor our nation's veterans as well as those who are actively serving in the armed forces," he said. "It has allowed the town to honor the service and sacrifice of veterans and active duty personnel."
Mayor Will Baker agrees.
"It's a great way to literally put a face with the term 'veteran.' People can see that those who have and are serving this great nation are in fact our neighbors, sons, daughters, fathers, mothers, brothers and sisters," he said. "I'm very proud of our town for doing this to honor our veterans, past and present."
The custom-designed banners bear photos of veterans who have died, served or are still serving. They're typically on display from Memorial Day through Veterans Day, except when the town is expecting or experiencing tropical weather.
It's a perfect program for a town close to two U.S. Marine Corps bases – Lejeune and Cherry Point – and packed with retired and active duty military personnel.
Several of the town's commissioners served. Commissioner Don Miller, who served in the Marine Corps from 1976-96 and ended as a 1st sergeant, is on a banner, as are three town police officers, David Walden, John Eschbach and Joshua Hayden, also all U.S. Marines.
Planning board Chairperson John Ritchie purchased one to honor is father, U.S. Army Air Corps Maj. George Ritchie, who was a lead bombardier in Europe in World War II. He called the program a great idea, and said he loved it from the minute he heard Mr. Steffey and then-town administrative assistant Heather Leffingwell talking about it.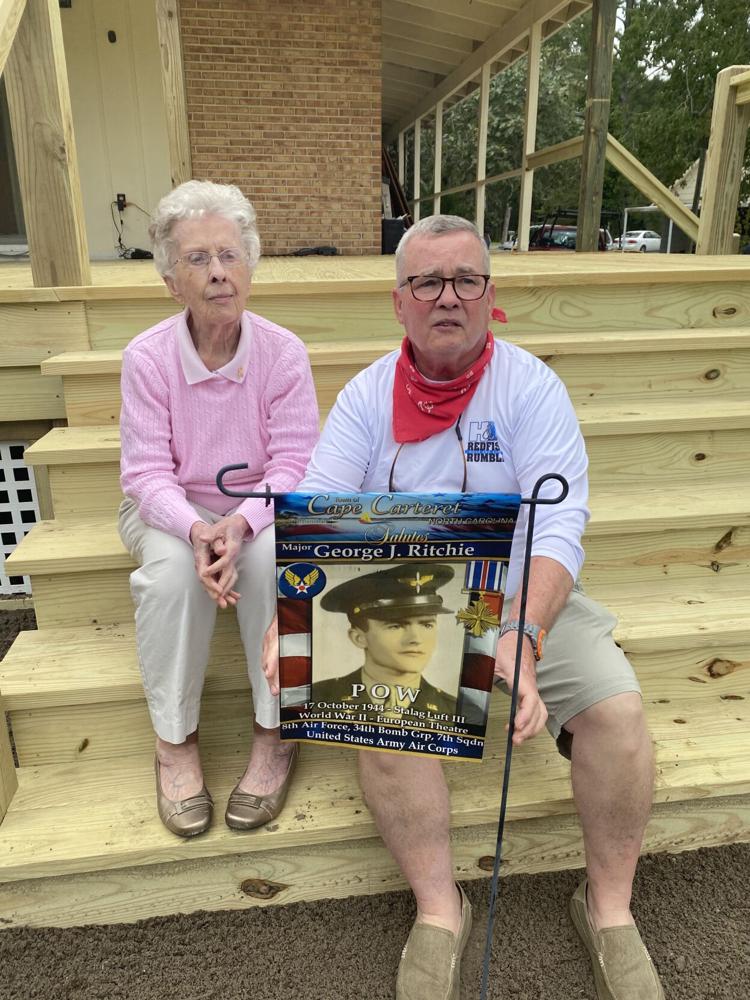 Mr. Ritchie said he is very proud of his father's service and feels he and others on the banners richly deserve the recognition for what they have done to keep the country safe and secure.
"It's a great program, a great way for our town to show appreciation," he said. "I think public response shows that."
Another planning board member, Paxon Holz, has purchased banners to honor her father, Capt. W.B. McLean, a U.S. Army captain in North Africa and Italy in World War II, and her husband, Marine Capt. William Holz, who flew 400 F4B Phantom missions in the Vietnam War. Ms. Holz also purchased banners to honor family members of other town residents.
She said her father, who was a founder of the town, was headed for the Japanese theater of World War II when the Japanese surrendered in 1945. His ship turned around, and Ms. Holz said she's glad, because she might otherwise not be here. She was born in 1947.
"It (the program) is a wonderful way for us to honor our residents and their family members who served," she said.
She called the program a wonderful idea by Mr. Steffey and noted many of the honorees are alive, still live in town and are "among the best people here."
Ms. Holz said she suggested to Emerald Isle Town Manager Matt Zapp that his municipality start a similar program, since countless Emerald Isle residents and family members also have served in the armed forces.
The most recently added banners honor veterans connected to Transportation Impact, a spend-management company based in Emerald Isle. They honor the company's co-founder, Marine Cpl. Keith Byrd; his father, Marine Sgt. Fred Byrd; and Marine Sgt. Joey Inman, one of the company's freight services supervisors.
"It is always important to our country to recognize the men and women who are serving or have served this amazing country," the company posted on its Facebook page after those three banners went up near the intersection of Highway 24 and Highway 58.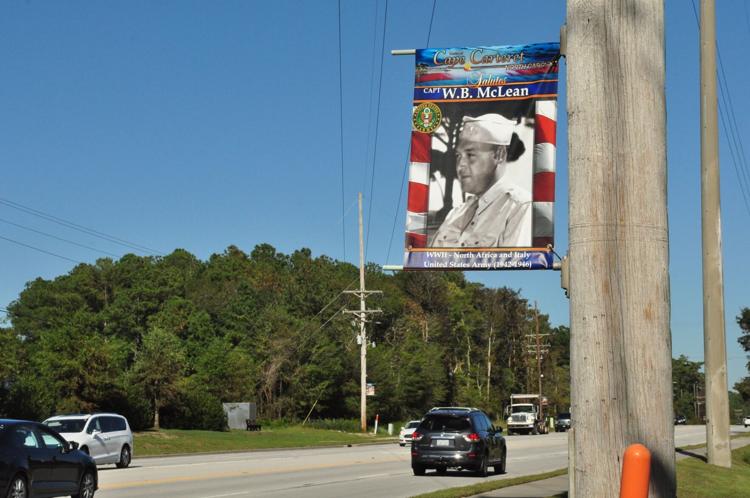 The banners are made by a private company based in Pennsylvania, and the program is active in communities across the nation. Mr. Steffey said the town wants more banners to honor more service members, and encouraged those interested to visit troopbanners.com/CapeCarteret/ for an application and to view banners already on display along the streets.
The cost for one 24-by-36-inch double-sided banner, including mounting hardware and maintenance for hanging banners, is $130. Additional 12-by-18-inch replica yard banners are available for $10 after the initial banner purchase.
Applications can also be picked up and returned to Cape Carteret Town Hall between 9 a.m. and 5 p.m. Monday through Friday, or can be mailed, along with the selected photo, to Town of Cape Carteret, Attn: Military Banner Project, 102 Dolphin St., Cape Carteret, NC 28584.
Checks should be made out to Town of Cape Carteret, with Military Banner Project in the memo line.
Those who submit an application and payment will receive a proof via email to approve the banner as submitted.
Contact Brad Rich at 252-864-1532; email Brad@thenewstimes.com; or follow on Twitter @brichccnt.