NEWPORT — Beach tourism in Carteret County usually picks up as the weather gets warmer, and the National Weather Service and its partners want to make sure beachgoers are informed and aware of beach safety hazards. 
The NWS hosted its third rip current and beach hazards warning team workshop April 5-6 online via Webinar. During the meeting, NWS meteorologists, emergency services officials and others discussed the issue of beach safety in the face of the upcoming beach tourism season on the North Carolina coast.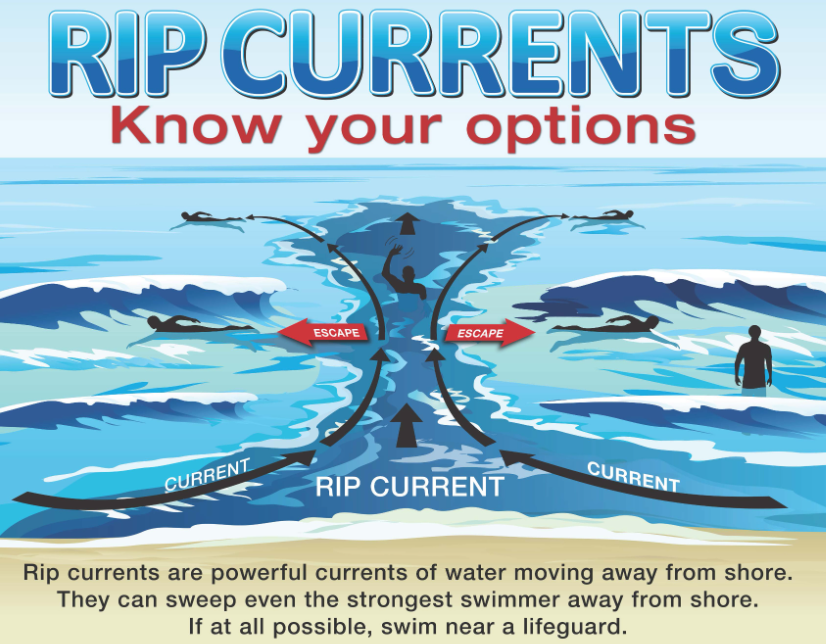 NWS Wilmington weather forecasting office meteorologist Victoria Olivia said April 5 while the workshop focused on all beach hazards, special attention often goes to rip currents, which are the No. 1 cause of weather-related fatalities in North Carolina and northeast South Carolina.
"There's been a lot of focus these last few years on beach hazard safety and forecasting," Ms. Olivia said. "The USLA (U.S. Lifesaving Association) estimates about 100 rip-current fatalities (occur) every year nationally. About 80% of ocean rescue are rip current related." 
Rip currents are powerful currents of water that form perpendicular to the shoreline of a beach. These currents are strong enough to drag even the best swimmers dangerously far from shore. 
According to Ms. Olivia, since 2000, there have been 175 rip current fatalities in the eastern Carolinas. Twice as many drownings occur in North Carolina as in South Carolina. She also said in the last 10 years, 27% of rip-current drowning victims were bystanders who tried to rescue someone else caught in a rip current.
"We've been messaging that if you have to go in the water to rescue someone, always grab a flotation device," she said. Ms. Olivia stressed that bystanders who see someone caught in a rip current should call 911 or a lifeguard first. Going out into the water should be a last resort.
In recent years, as efforts to inform the public about beach safety have increased, the number of rip current fatalities have dropped. Ms. Olivia said in 2021, the Outer Banks had no reported rip current fatalities, a first since 2008. 
"We're going to see if we can keep that (result) going," she said. "Rip current fatalities in the Carolinas were the lowest they've been (in 2021) since 2013. One year doesn't make a trend, but we're hopeful." 
Other dangerous hazards on the beach include rough surf break and longshore currents. Surf break is when ocean waves break directly on a beach. At heights of 4-6 feet, these can result in injuries to swimmers and others caught in the waves. Longshore currents, meanwhile, are strong currents that run parallel to a shoreline. These can sweep beachgoers caught in them along the beach strand, sometimes into inlets if one's close by. 
One of the primary things the NWS is working to improve beach safety is providing beachgoers with warnings and forecasts before they go to the beach. NWS Newport weather forecasting office meteorologist Tom Lonka said April 5 the weather service has been issuing beach hazard statements with rip current forecasts for coastal areas since 2012. 
"We want to start messaging other surf hazards prominent to the local geography," Mr. Lonka said. 
Local NWS offices will issue three daily beach condition forecasts, which are emailed to local lifeguard services. Other regular reports include surf zone forecasts, available by going to a NWS office's website – the Newport office's website is www.weather.gov/mhx – and clicking the Surf Forecasts/Rip Currents button.
Mr. Lonka said the NWS Newport office will begin issuing its forecasts Friday, April 15 for the beginning of the Easter holiday weekend. 
NWS data shows that the people most likely to be injured or killed by rip currents and other beach hazards are visitors from inland areas. NWS Louisville, Ky. weather forecasting office meteorologist Ron Steve said of the 175 rip current fatalities in the Carolinas since 2000, about 80 of them were out-of-state visitors to the coast. 
In an effort to inform those most at risk of being uninformed of beach hazards, the NWS has been making efforts to get the word out more to inland residents. Mr. Steve said social media has been used extensively, with inland weather service offices following and re-posting messages from coastal offices. 
Other efforts include working with local news stations on beach safety pieces and blog posts, according to Mr. Steve. 
"Any time to go tout talking about weather safety, rip currents are on-topic," he said. 
The weather service isn't the only one making this effort, and it seems to be having an effect. Dare County Emergency Management Director Drew Pearson shared a success story April 5 about his county officials' Love the Beach, Respect the Ocean campaign. 
Mr. Pearson said the county formed a workgroup in 2017 of county officials, municipal officials, National Park Service staff and other partners to study the matter of beach safety. He said they found most visitors to the county were unaware of beach hazards like rip currents. 
"We found scare tactics and signs won't solve the problem," Mr. Pearson said. "We had no dedicated funds for public awareness. We needed to help beachgoers make informed decisions." 
To that end, the county started its Love the Beach, Respect the Ocean campaign in 2018. Mr. Pearson said they used the slogan to get visitor attention and promote awareness through various methods, including a website – www.lovethebeachrespecttheocean.com – and by using the county's mass notification system's text-to-join capability to distribute NWS watches, warnings, surf zone forecasts and morning beach conditions reports.
The campaign seems to have gained public attention; Mr. Pearson said in 2021, Dare County officials had 10,150 users per day for their mass notification system. During a period from May 1 – Oct. 31, 2021, users received 557 alerts, including 240 beach forecasts, 240 morning beach conditions reports and 77 hazard/red flag notices. 
Mr. Pearson said they also used social media to inform beachgoers. County officials sent all its alerts out on Twitter at @DareCounty EM. 
"That (effort) has led to better-informed beachgoers, which turned into no lives lost to ocean hazards in 2021," Mr. Pearson said. "That's a testament out here on the Outer Banks, especially when we saw record visitors out here (in 2021)." 
Contact Mike Shutak at 252-723-7353, email mike@thenewstimes.com; or follow on Twitter at @mikesccnt.